Creative Ideas for Storing Your Christmas Decorations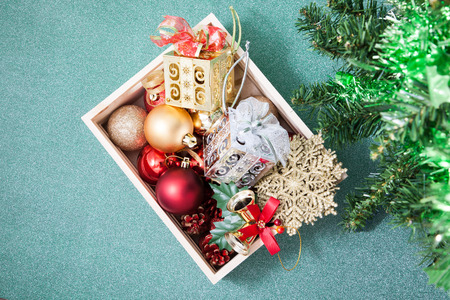 In a custom home by Glenn Layton Homes, one of the premier home builders in Jacksonville FL, you can design your own storage options to ensure plenty of storage all year long. However, when it comes to Christmas decorations, there are so many decorations of all sizes that it helps to have some creative storage ideas to make taking them out and putting them away simple and easy to do each year.
If you haven't put your decorations away for the season, here are some helpful tips to keep you organized. If you have, bookmark or Pin this post for next Christmas. You'll be glad you did.
We all know that Christmas lights are one of the decorations most likely to have us losing our holiday cheer each year. To keep them untangled and organized, as you take each strand down, wrap it around your arm and then use a couple of twist-ties to keep the coil together. Then place the coil in a zip-top bag and seal. You can put all of the bags in one larger bag or box when you're finished.
If you have a lot of garlands and wreaths that you use to add some Christmas spirit to your home, it's worth buying clear plastic storage boxes for them. Packing them away in airtight bins will keep them looking fresh and vibrant for years to come.
While some tree ornaments are made of sturdy plastic, others are much more delicate and can be difficult to pack up safely. Your best bet is to stock up on egg cartons, egg crates, and wine-bottle boxes. Place your small, delicate decorations inside the egg cartons, which can then be stacked in the egg crates for added security. For larger decorations, compartmentalized boxes for wine or liquor bottles offer great storage options. After all, both the egg cartons and wine boxes are specifically designed to protect delicate items.
Finally, for all of those odds and ends, such as thumb tacks, wire, ornament hooks, or spare bulbs, take advantage of your coastal location and buy a small tackle box to store all of those small items. This keeps everything in one place so you don't have to go digging through all of your boxes, bags, drawers and more looking for those items you only seem to use once a year.
Glenn Layton Homes, custom home builders in Jacksonville FL, create stunning homes that capture the beauty of coastal living. Just as importantly, they understand your daily needs and will help provide all sorts of custom elements, including storage for everything from swim goggles to Christmas garlands. Contact them today to see how they can help create your own custom coastal oasis.
Categorized in: Uncategorized
This post was written by Glenn Layton Homes