Glenn Layton Proudly Supports Monique Burr Foundation Golf Tournament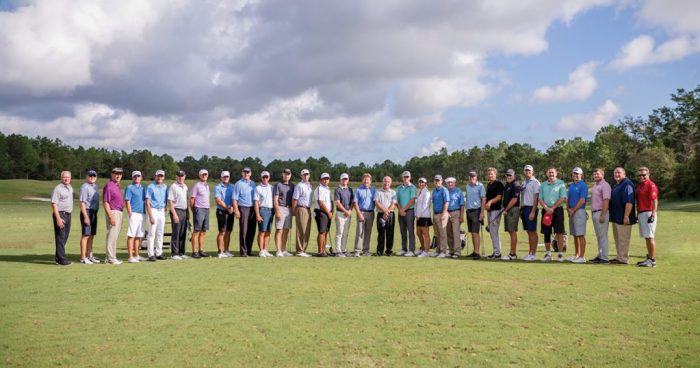 Glenn Layton Homes is proud to have once again partnered with the Monique Burr Foundation (MBF), helping with the 21st annual LENNAR and MBF Champions for Child Safety Pro Am Golf Tournament Presented by Drummond. The tournament took place at the prestigious Palencia Club in St. Augustine and was chaired by honorary chairmen and pro golfers Fred Funk, Jim Furyk, and Mark McCumber, and tournament chairman MG Orender.
This annual event saw 24 professional golfers teamed up with 96 amateur golfers to play for an important cause. MBF has a number of child abuse and bullying prevention education programs that benefited from the tournament, including the MBF Child Safety
Matters® and MBF Teen Safety Matters®. In total, the tournament raised more than $187,000 for the various programs. As well as the many Monique Burr Foundation programs, the other big winners of the tournament were England-Thims and Miller, Inc. who were accompanied by pro-golfer Garrett Willis.
The tournament event is spread out over multiple days with events that include more than just golf. The tournament began with a pairings party on the first evening, followed the following days by several course contests, including a $1 million shootout, six hole-in-one contests, and a pre-event putting contest. There was also a luncheon and awards reception.
Based in Jacksonville, MBF's prevention education programs educate and empower students
and all relevant adults with information and strategies to prevent, recognize, and respond
appropriately to child sexual abuse and other types of child abuse, as well as bullying and
cyberbullying including internet safety. As Lynn Layton, President and CEO of MBF explained, "To date, the Monique Burr Foundation for Children has trained more than 3,000 facilitators, who have reached more than 2.5 million children with our programs."
The Glenn Layton Homes volunteers provide support for the MBF team for golfer registration, volunteer breakfast and lunch, transporting volunteers to golf holes, and the overall setup and breakdown for all volunteer stations. As well as being an organization and program that the company and its staff are proud to support, there's also a family connection, as Glenn Layton is Lynn Layton's husband. As Lynn explains, "The MBF Champions for Child Safety ProAm is the one day each year that our "work families" join together to work towards our common goal of protecting children. Glenn's leadership for our volunteers and the GLH team's support is crucial to our event's success and the experience of our guests.  It is also really special to have him by my side on a day that is so important to the work I love."
As the Monique Burr Foundation truly believes, every child deserves to be safe. Having so many people and businesses within the community come together to help protect and improve the lives of children is something that everyone involved can be proud of and it's something that more people are encourage to support through volunteer work and donations to the Monique Barr Foundation.
Categorized in: Uncategorized
This post was written by Glenn Layton Homes