The Best Flooring Options for Your New Home in Jacksonville FL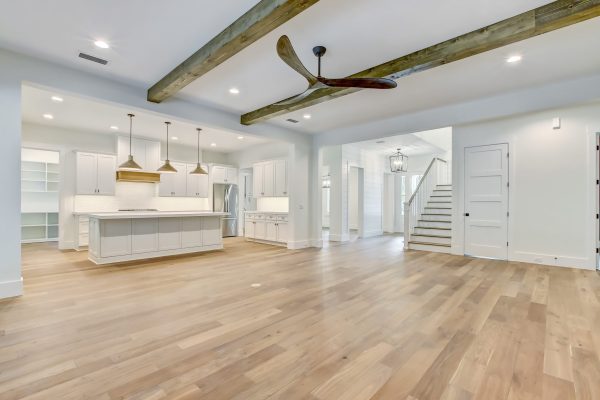 Glenn Layton Homes offers plenty of flooring options for your new home in Jacksonville FL. Let's see how hardwoods and carpets match up against each other.
Flooring Upkeep – Though both carpets and hardwoods require maintenance, hardwoods are the clear winner. Hardwoods are more durable and only require sweeping and the occasionally polish to maintain their look whereas carpets need vacuuming, professional carpet cleaning and are more difficult to get rid of stains and spills. Hardwoods are more kid and pet friendly as well.
Sound Insulation – When it comes to absorbing sound, carpeting is the champion. You can muffle the sound of walking across a room as well as help prevent echoing in a room.
Temperature Zones – Hardwoods are more compatible with carpets when it comes to keeping you warm or cold. Carpets will keep you warm during the winter months. Though you can always lay area rugs down in your Jacksonville FL new home, they have to be placed strategically in order to provide the cushioning and warmth needed. On the other hand, during the summer months, carpets attract more heat and may not keep you as cool as you'd like to be.
Allergy Sufferers – Hardwoods are the clear titleholder in this group. Carpets are magnets for mites, pollen dander, bed bugs and other allergens. Carpets also trap allergens easily, especially in high traffic areas.
More Options – Carpets and hardwoods stack up well against each other. There are a variety of options to choose from between wood and carpet types. There are however, more color possibilities to pick with carpets. Additionally, area rugs can always be put down on hardwoods but you cannot put hardwoods down on carpets.
Better Value – Carpets are cheaper and easier to install than hardwoods. With this being said, hardwoods are still the frontrunner in value. Not only is this flooring option more popular, but carpeting goes out of style. Hardwoods are more lavish than carpets and definitely stand the test of time. They'll add more appeal to your home and provide you with a better resale value.
Though hardwoods are at the front of the pack or tied for all but one of the categories, as a homebuyer, the flooring option you choose is totally up to you. Pick something that meshes well with your decorating taste, lifestyle and budget. You can always vie for carpeting in your bedrooms and hardwoods in your hallways and dining room.

Tags: custom homes jacksonville fl, new homes Jacksonville fl


Categorized in: Uncategorized

This post was written by Glenn Layton Homes